Five years ago, Kai Karrel and I went on our first of many tours together. This first one brought us to Washington DC, being hosted by the incredible Birgit Sperling Stearns and her wonderful family, including her youngest daughter Sophia Sperling.
It was the first time I got to be in a dakini (supportive role) for Kai's Goddess Puja that has since become one of my most cherished offerings.
From Birgit's wonderful home, so filled with love and devotion, to the amazing people who showed up, (some of which I'm dear friends with still today) to really feeling the power behind the ceremony as I got to help Kai hold all of these humans in this deep space of adoration, acceptance of their greatest divinity and most unique humanity.
I cried along with everyone else as they had their tears held, I laughed as they showered eachother with dozens and dozens of rose petals, and as Kai tied the "marriage thread" on me at the end as the demo, I knew I would be a part of bringing these Puja's to the world for as long as I was alive.
This past September, Kai passed the torch onto me, he does other types of ceremonies now, and will occasionally join me and Peter Petersen or offer it himself, but since September I've offered eleven Puja's all over the world.
And now my dakini is my beautiful partner, Peter, one who holds that space of such deep presence and devotion so well.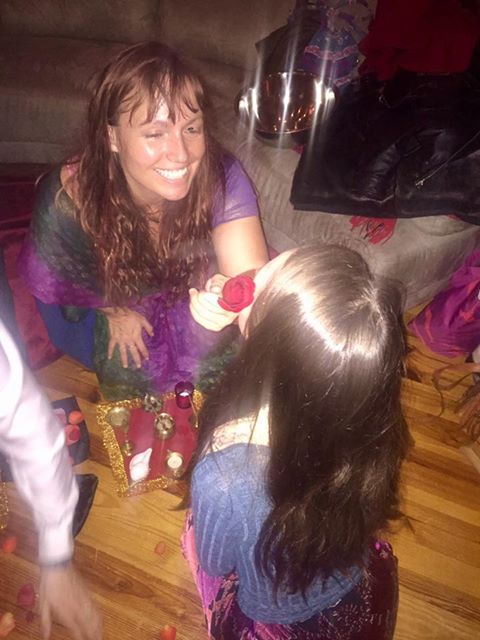 And last night, I was back in DC, this time being hosted by the amazing Nick Hamilton and Birgits beautiful daughter is older and more mature and just such a lovely soul. It felt full circle to get to sit in front of her and offer her these devotional elements, witnessing her in her supreme divinity.
Remembering how it all started with Kai and this city, loving and appreciating him, this Puja, this city, and this beautiful young woman, who represented what you could step into when you experience such devotion, adoration and unconditional love at a young age.
Still feeling touched beyond words, in awe really, that I get to offer such a service to the world, that in Peter, I've found a partner, someone who equally wants to serve and help others wake up to their unique magnificence.